Augustine Azuka 'Jay-Jay' Okocha is the Nigerian footballer who was so good they named him twice. That is how the story goes, anyway.
But Okocha was not only a hero for fans of the Super Eagles; his mesmeric individual skills made him an idol to supporters in Germany, Turkey, France, Qatar and England, where he starred in the Premier League most notably for Bolton Wanderers.
Born in Enugu, Okocha played 75 times for his country, winning the African Cup of Nations in 1994. The seven-time Nigerian Footballer of the Year was Bolton's Player of the Year in 2002/3.
He helped Hull City win promotion to the top flight for the first time in their 104-year history before hanging up his boots in 2008.
Now 43, the attacking midfielder who is uncle to Arsenal star Alex Iwobi, is in training for an international comeback in London this summer in the Star Sixes tournament.
I might be a bit slower, but you can never lose your touch or quality.
Star Sixes starts at the O2 London from July 13 – 16. England, Germany and France will also be competing in the 12-team tournament for former internationals, which will include such illustrious names as Steven Gerrard, Roberto Carlos and Robert Pires.
Nigeria legend @IAmOkocha's still got it. ⚽⛳ pic.twitter.com/g6sar5Xtxw

— CNN Sport (@cnnsport) March 24, 2017
Okocha's Nigeria squad has been drawn in a group against China, Italy and Brazil.
Here he talks about his comeback, Premier League memories, his favourite players and nephew Alex…
How do you feel about the prospect of playing Star Sixes and for Nigeria again?
It's gonna be fun. I like the fact there is not so much pressure on us now as we do not have anything to prove other than that we still have it!
Have I still got it? I think so! I might be a bit slower, but you can never lose your touch or quality.
I do not get a chance to play that often now as I have done my bit. But every now and then I have a kick about and love to play the occasional charity or testimonial game.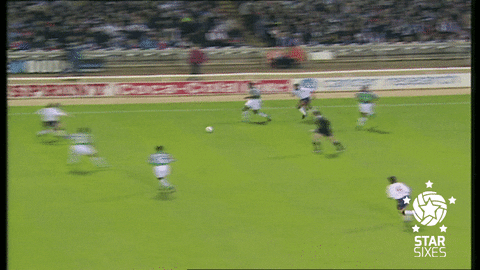 How are you preparing to be in top top shape?
I do not think I will ever be in top shape again! But I will cut down on certain things to get ready as I am very competitive and we will give it our best shot representing Nigeria again.
I played with a freedom of expression from when I was a boy.
So you're are not coming for a holiday?
No way. Even if you think that it doesn't matter so much any more now, that all changes once you are out there on the pitch. Once you are out there it really does matter and if it didn't I would just stay at home. We will be giving it our best shot to win the tournament.
But I do not think Nigeria will be feeling under pressure and that could make it very difficult for our opponents.
Most of us have kept in touch over the years and still play the odd game together, but this will be different to be together as a group again in a competitive environment. It is going to be very nice for all of us.
Is it fair to say the famed Nigerian skills give your country an edge in 6-a-side?
I hope so! I think six-a-side is all about technique and just a bit of tactics. So that should suit players with good skills more than the average player, if I can put it like that. So I think it will suit us well, but we will have to be in shape to show we can still do it.
What is the secret to your special skills and tricks?
I played with a freedom of expression from when I was a boy. And when you are that young, playing without a manager, you can just kick a ball about for the love of it and show what you can do. That is how you develop technique when you're a kid, trying different things.
There were lots of good boys I played with when I was young, but if you go about things a bit harder than the others then you will stand out and I was one of those who stood out. We had quite a few technical players though.
Which current Nigerian international would you want alongside you today?
Alex Iwobi. I think I would be so passionate to play with him. We speak a lot and he is not just my nephew, but like a son to me. If I had to chose an all-time player it would be Brazil's Ronaldinho from our time together at PSG. He was an unbelievable technical player.
Are you surprised Alex has become a key player in the Arsenal first team and playing for his country so young?
He has always shown signs of becoming a great player, but his development has been really quick compared to some of the young players in his youth team. He is not only a good player, but he has capitalised on opportunities that he was given more than others around him.
With My Uncle @IAmOkocha ⚽️👊🏽❤️ pic.twitter.com/qWgm52YOXL

— Alexander Iwobi (@alexiwobi) November 13, 2016
What will it be like to play at the 02?
I have never been so I am really looking forward to playing there. I am excited to get out there because of my experience in the Premier League I know slightly what to expect from the atmosphere. I know how much English people love their football so I am looking forward to feeling that again.
I think we will have a good number of Nigeria fans there too as there has been a lot of talk about it. I have been getting calls here and there from people who have already bought their tickets and some who want more.
Who are you looking forward to playing against again?
I do not want to think about any opponents as I am just keen to focus on myself and to get into decent shape. Then I can worry about them. Overall, it will be nice to see so many great players again and I think that is the essence of the event.
The spirit of Jay-Jay Okocha flowing through Alex Iwobi 🔥pic.twitter.com/TmiBOMf7NE

— BigSport (@BigSportGB) November 12, 2016
Your former Bolton manager Sam Allardyce has been a consistent success in the English top flight – what makes him such a good manager?
His knowledge of the game is so deep and his philosophy is strong. He knows how to get the best out of players. He is not scared to experiment and he believes strongly in his football philosophy.
I think his greatest asset is his man management. It is all about understanding players and he makes an effort to know what make every player tick. He provides his players with everything they need to be on top form.
He understands that there is give and take and life, but life can be a bit uncomfortable for you if the team is not doing well. As a manager your job is always at stake and if the team is not doing well, he can let you know it.
Jay-Jay Okocha will play for Nigeria at Star Sixes, a new world six-a-side tournament for legends at The O2, London, July 13-16. Ticket details from www.starsixes.com